Albums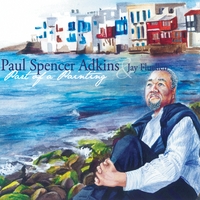 Part of a Painting
by Paul Spencer Adkins & Jay Fluellen
2010
Twelve selections from Musical Theater, Film and Jazz including works from "Titanic", "South Pacific", "Edges", "Great Day" and Summer of '42".
Album Notes
My second Compact Disc project is a very special collaboration. The inspiration was coupled with finally having the opportunity to record with my friend, pianist and intuitive arranger Jay Fluellen. Jay has the gift of combining superb technical pianistic skill with sensitive and heartfelt musical artistry. Glenn Ferracone, recording engineer and co-producer, has been my very important second set of ears. I am pleased to share the expertise he displayed ,once again, in the retro-style "live"ambiance. A"live concert recording"experience is risky and yet for me most rewarding.
The title song was sent to me by my former voice student, Benj Pasek. "Part of a Painting" introduces an artist fresh from a sabbatical in Athens. On his way home to a lady in Pittsburgh, he has discovered peace and beauty. Describing his visit to the Grecian castle in vivid detail and how he has subsequently found his way, help promises to paint a vivid portrait for his love."
The selections from this disc explore the genres of romantic ballades, light jazz and musical theater. I would classify my style for this project as "Popera," a fusion of classically trained singing with popular music. Thanks to Toni Marie Walton,my talented CD cover artist; Tara Robertson, portrait photographer; Jukabiea Barlow,flugelhorn; Justin Binek; Meg Boscov, Annie Sciolla and my private voice students past and present. A special thanks to Dr. Walter Weaver, my first voice teacher who inspired my passion for singing; my loving and supportive wife Mary Elizabeth and family; Alexander,Timothy and Kathryn, who will always be the most important part of my paintings.
— Paul Spencer Adkins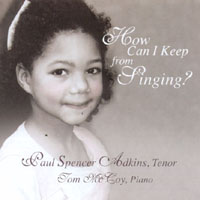 How Can I Keep From Singing?
by Paul Spencer Adkins, Tenor; Tom McCoy, Piano
2002
Classicaly inspired Sacred music with a hint of jazz fusion. This project represents my operatic background and love for classical jazz style.
Album Notes
This CD project is a documentation of my sacred musical journey thus far. I am verythankful to the good Lord for the gift of song bestowed upon me and my family. Growing up in Monongahela, PA, music was a very intrical part of my home, church and school life. Thank goodness my parents encouraged and provided the opportunity for me to pursue my music passion.
During the late 1950's through the 1960's, I, along with my mother and sisters, would attend my father's sacred song recitals. I still recall the "goosebump chills" I enjoyed from my father's singing. Many Sunday afternoons after church, I would spend time listening to the wire recordings of my father's "live" performances. Those recordings and memories are the inspiration for this project. The location for this session was in a church sanctuary and recorded in two, two day sessions with the intent of creating the ambiance of a "live" concert experience. Most of the final product were selected from the first or second take without edits. You will hear improvised arrangements on ten of the songs. I believe we were successful in creating this retro style recording. The only thing missing is the very light hiss of the wire moving through the wire recording machine.
I would like to thank my parents, voice teachers and church choir directors for their faith in my abilities: Mary, my wife, our children Alex, Tim and Kathryn for their love and support: Tom McCoy for his superb artistry and inspiration: Glen Faracone for his recording and mixing mastery: Aasim Jackson for your superb viola tone: Calvery Luthern Church West Chester, Pa. and staff for the use of their santuary and piano: Kathi Ridl for your vision and artistry: Dr. Schuller and the Crystal Cathedral family: my private students past and present who have helped to shape the singer in me.
How Can I Keep from Singing?
— Paul Spencer Adkins
Critical Acclaim
"Adkins has an effortless voice and a very natural stage presence..."
— Kyle Gannon, Chicago Tribune (Pearl Fishers)
"Adkins has an incomparable voice. The man has got a very special tenor sound and acting skills to match. He makes you believe anew in the wondrous and wonderful transformative powers of love"
— Steve Barnes, Post-Star (Lake George Festival)
"...Armed with instincts of a showman, tenor Paul Spencer Adkins gave a breezy yet throughly captivating Chamber Music recital... Adkins produced his best work in the superb concluding medley of spirituals. These were strongly characterized, deeply felt renditions, a near-ideal combination of ringing opertic timber and idiomatic note-bending..."
— Richard S. Ginell, Los Angeles Times